Although private ADS-B reception is fun on its own, even more enjoyment can be attained by sharing one's ADS-B aircraft decoding with other organizations e.g. FlightAware, FlightRadar24 and PlaneFinder. In exchange for this, both are willing to provide 'premium' (professional paid web app) access for free. My FlightAware-registered station is CJA3 (Morden's airport), and my FlightRadar24-registered station is T-CYWG2

In fact, FlightAware and FlightRadar24 and PlaneFinder all provide free professional high-quality equipment to receive/decode/supply ADS-B aircraft position data if you live in an area in need of additional coverage, and your site is suitable for a 24 hour x 365 day support! No computer is required for these purposes -- just a solid internet connection -- and appropriate holes in your home to connect the receivers to the outdoor antennas.

Even with the mismatched TV antenna (in a basement window) that came with my eBay RTL-SDR dongle, I have been able to track aircraft as far as 50-80km away from my location. This is far short of what is possible with a better antenna, but is still quite amazing!

UPDATE: With a better antenna designed for 1090Mhz, aircraft signals can occasionally be detected from 450+ km away!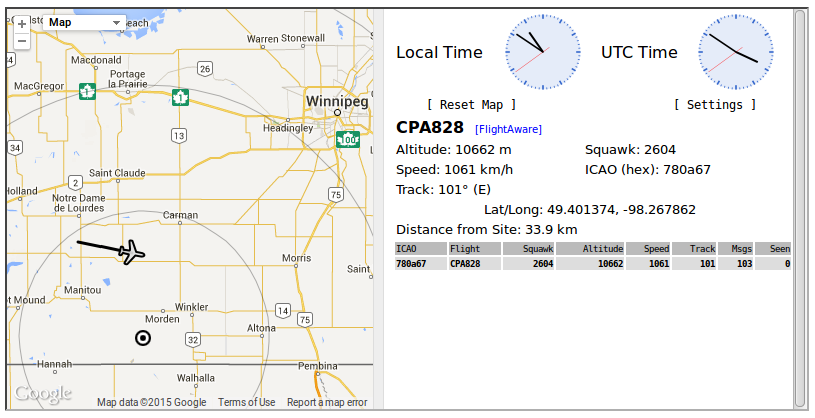 Flight CPA828 as caught by Dare's RTL-SDR dongle using 'dump1090' program on Raspberry Pi Linux mini PC with supplied simple antenna. Notice that the 'squawk' identification of '2604' was also detected. Here are the bytes that were decoded from the stream by 'dump1090' to detect and plot this flight as it passed by (port 30002):


Here is the same stream partially decoded by the same program (port 30003):
Here is the same stream partially decoded by a variation of the Python code py-adsb-decoder by Junzi Sun: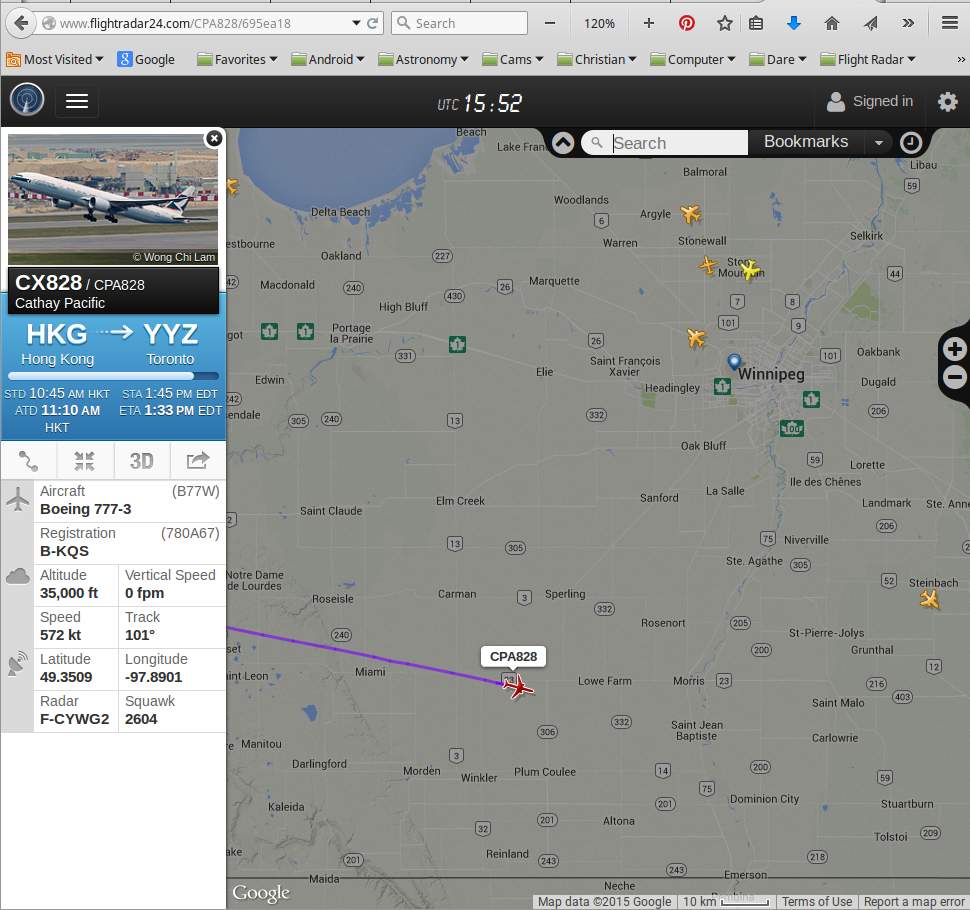 Flight CPA828 as reported by FlightRadar24. Notice all the other flights that I wasn't capable of picking up due to my (currently) limited antenna range. Here is a direct link to the FlightRadar24 area centered on Morden, MB, Canada.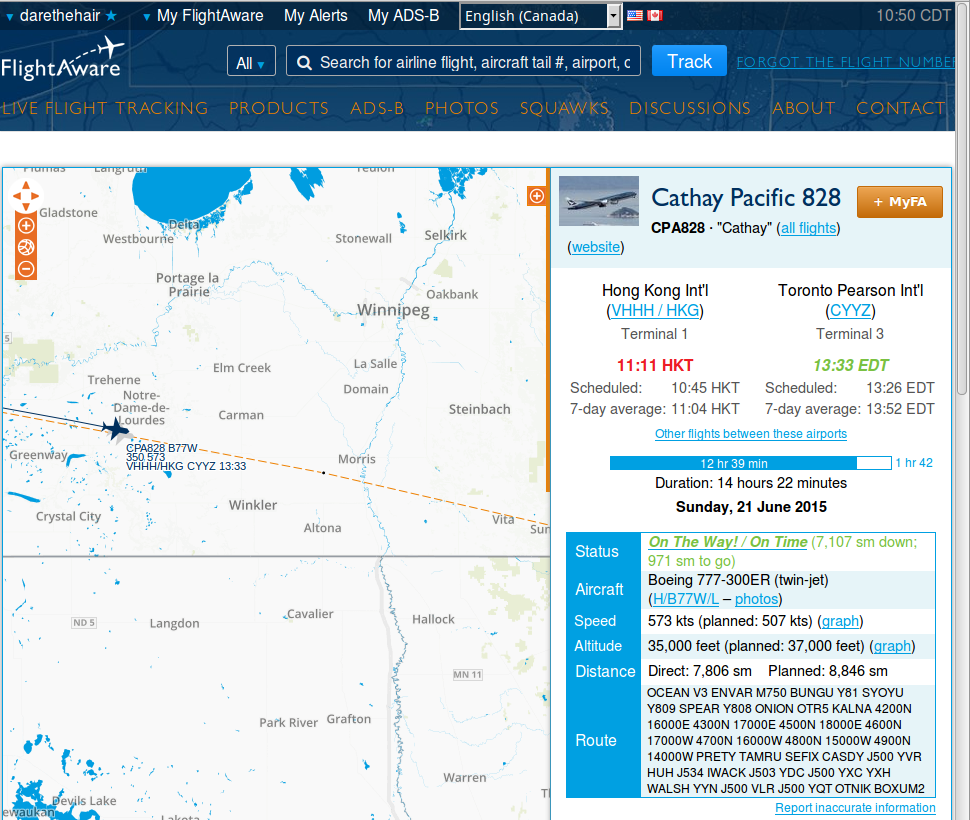 Flight CPA828 as reported by FlightAware.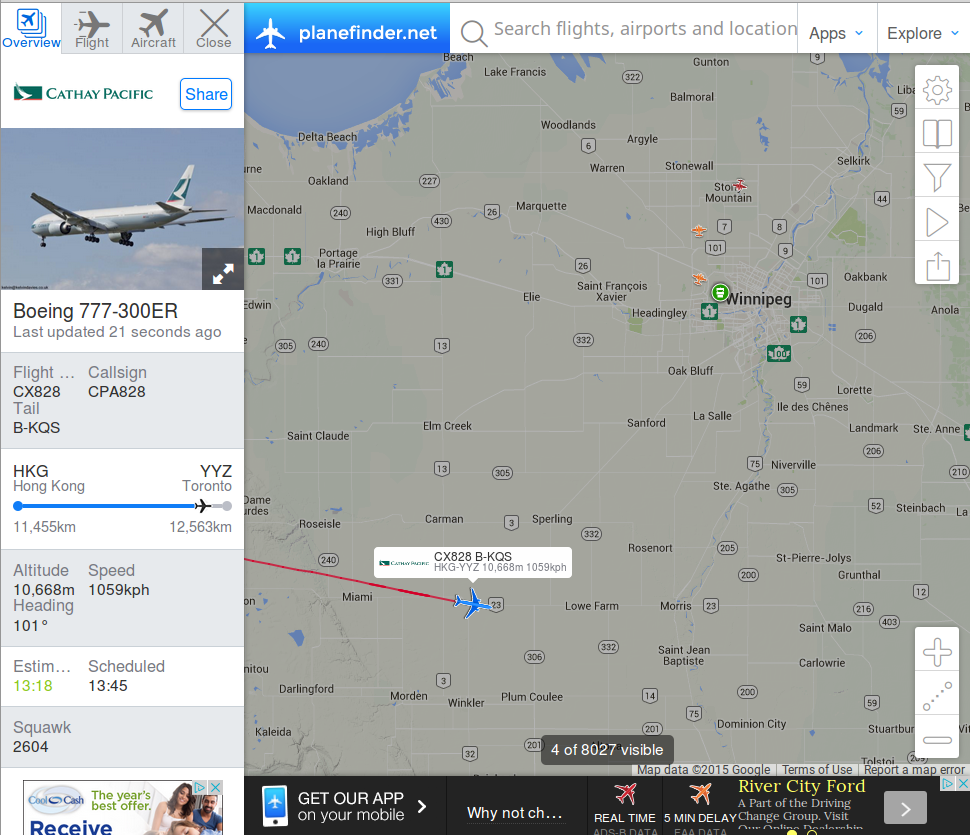 Flight CPA828 as reported by PlaneFinder.